Commercial furniture. Foam bonding increases durability
Foam Bonding via Flame Lamination
Foam Bonding or lamination is a very effective method for bonding flexible foams to a variety of other substrates, including fabrics, films, and papers. Foam lamination creates a superior full surface bond with improved strength, stability, and appearance by using two or more materials stacked in multiple layers.
Foam bonding via flame lamination removes the need for glue in the bonding process meaning a more cost-effective alternative for your business.
Our foam bonding capabilities include both bi-lamination and tri-lamination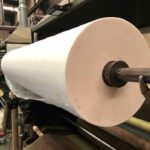 This bonding process could involve sandwiching foam between two textile surfaces or adding a cerex or denier backing to give added stability to the textile to allow it to hold the needle thread during final fabrication.
There are several ways in which sheet can be laminated: Hot-roll lamination, extrusion lamination, flame lamination and adhesive lamination are a few such processing approaches.
---
Foam bonding applications
Sound attenuation
Footwear
Upholstery
Sports and Gymnastics
Insulation
Automotive
Military
Office Partitioning
Drapery
Bedding
Insulation
Orthopedic braces
---
BR by Design has worked hard to earn its reputation as a trusted provider of fabric bonding and laminating solutions.
Detailed Order Instructions
NOTE: Work loss: you must include with your order one additional meter for each continuous piece of material supplied.
NOTE: Fabric should be forwarded rolled on a tube with the face side of the fabric clearly marked. Incoming fabric that is wrinkled or not rolled on a tube will be subject to wrinkle removal charges.