Waterproof Fabric Backing
Permanent, maximum protection for fabrics
Waterproof fabric backing guards against spills, liquids and dew
Waterproof fabrics have revolutionised the use of fabrics in design, especially in Healthcare, Aged Care, and Hospitality industries. BR by Design's heavy-duty, breathable waterproof backing, has allowed designer's creative freedom to choose.
Our waterproof film offers superior performance over most waterproof fabrics. A waterproof film is applied to the back of the fabric, protecting the substrate from liquids and spills. This eliminates issues such as odours while preserving the look and feel of a breathable textile.
The waterproof film can be applied to most textiles including textured fabrics, giving an unrivalled choice when choosing a waterproof fabric.
In independent pressure testing to AATCC 127-2008, our waterproof Vinyl backing tested over double the industry standard.
The benefits of laminating fabrics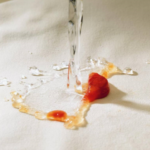 Waterproof backing creates an extremely versatile textile that can be used for most upholstery applications, tablecloths, bags and much more.
The application allows your fabric to become impervious to spills, liquids and dew, perfect for healthcare, hospitality, commercial and senior living environments.
Tablecloths
Haberdashery, Bags
Upholstery
Sports and Gymnastics
Waterproof Clothing
Outdoor Furniture
Drapery
Bedding
---
Features of waterproof backings for fabrics
Permanent, maximum protection for fabrics
Retain original quality of your material
Guards against spills, Liquids and dew.
Remains Breathable
Good UV stability
Good microbial resistance
---
BR by Design has worked hard to earn its reputation as a trusted provider of fabric bonding and laminating solutions.
Detailed Order Instructions
NOTE: Work loss: you must include with your order one additional meter for each continuous piece of material supplied.
NOTE: Fabric should be forwarded rolled on a tube with the face side of the fabric clearly marked. Incoming fabric that is wrinkled or not rolled on a tube will be subject to wrinkle removal charges.