Knit Backing - Superior protection against wear-and-tear
Knit Backing (Two way stretch) / Denier) upholstery solutions
The process of adding a two way stretch or denier backing to upholstery fabrics involves permanently bonding a knitted poly/cotton fabric backing to the back of fabrics to add resiliency and durability while eliminating seam slippage.
Upholstery fabrics that can benefit from knit backing including cottons, silks, polyesters, chenilles and other types of fabrics; so check with us to see if our knit backing upholstery fabrics process works with what you have in mind. Chances are — it does!
---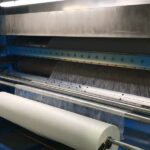 Cerex is a soft yet durable material which can be used in a wide range of applications.
Cerex is often used as a smooth backing on fabrics and foam creating a surface which allows for sewing without sewing thread pulling through the material. It also allows the cover to slide more easily over the frame.
Foam & Cerex, when used in upholstery, minimises the textile stretching, puckering, and puddling over time, allowing the textile to stay looking new for longer.
---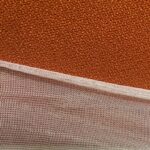 Denier is a woven polyester/nylon fabric which is bonded to upholstery fabric to add strength, stability, and body.
Slightly heavier and less elastic than knit backing, denier backing is primarily used for stabilising open or loosely woven fabrics.
20 denier nylon is a sheer and inexpensive fabric, suitable for many different tasks including costume, dress, event styling and more.
40 denier is available on request adding additional strength and sturdiness.
---
Knit backing is permanently bonded to the back of fabrics with foam, adding body, resiliency, and durability while eliminating seam slippage.
Knit backing makes light to mid weight fabrics more suitable for upholstery use.
High tensile and tear strength even at low fabric weights.
Resistant to most chemicals, solvents, alkalis and acids.
Excellent in uniformity and high-quality applications.
Up to 2m wide fabrics.
---
Our proprietary knit backing upholstery fabric process
Our knit backing upholstery fabric process makes lightweight fabrics such as silks, cottons, and chenilles more suitable for upholstery use. Knit backing gives a luxurious feel to fabrics while increasing wear resistance for longer life.
In addition, variations in the fabric such as creases, wrinkles, and distortions are minimized by our knit backing upholstery fabric process thereby enhancing the fabric's visual appeal.
Add strength, extra weight, and stability
Superior protection against wear-and-tear
Luxurious, smooth and soft to touch fabric
Retains the original quality and look of your material
A knitted backing is laminated (or bonded) to the back of your fabric to make the fabric backed product more durable, resilient, and stronger.
By applying the two way stretch/denier backing upholstery process to fabric, it can add longer life to the fabrics and increase the wear while keeping the fabric smooth and soft to touch.
BR by Design has worked hard to earn its reputation as a trusted provider of fabric bonding and laminating solutions.
Detailed Order Instructions
NOTE: Work loss: you must include with your order one additional meter for each continuous piece of material supplied.
NOTE: Fabric should be forwarded rolled on a tube with the face side of the fabric clearly marked. Incoming fabric that is wrinkled or not rolled on a tube will be subject to wrinkle removal charges.